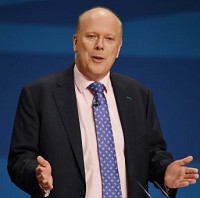 The Government is to follow the example it set with the motor insurance industry, in a fresh bid to crackdown on other types of insurance fraud.
Justice Secretary Chris Grayling announced the new proposals in the wake of a comparable action taken on the car insurance sector.
By targeting drivers who make fraudulent whiplash-related claims, a clampdown has already seen typical car insurance premiums drop 7% over the past year-and-a-half, the Association of British Insurers (ABI) said.
It is likely that home owners and holiday makers will enjoy similar savings if Mr Grayling's new taskforce of industry experts come up with ways of putting an end to the UK's compensation culture.
In the motoring world, new moves coming into force next April will see Ministry of Justice-accredited medical whiplash tests undertaken by experts to see if a claim is bona fide.
The ABI's Huw Evans said the industry has already invested more than £200 million annually to safeguard honest customers.
In October the RAC launched its own dashcam - RAC Car Cam - in a bid to support motorists in the fight against insurance fraud, as the so-called 'crash for cash' scammers cost the country £2bn in claims and add at least £90 a year on to the average motorist's car insurance premium.
Pete Williams, RAC head of external affairs, says: "Anything that helps to prevent insurance fraud will be a welcome move as premiums have been increasing in recent years as a result of this kind of activity.
"The introduction of dashcams, or in-car cameras, has been necessary in some countries where unscrupulous driving practices are a more regular occurrence.
"But with 'crash for cash' crimes unfortunately becoming more prevalent on UK roads, motorists are looking to accident cameras, or in-car cameras, to protect themselves from being taken advantage of and suffering increased premiums as a result of accidents caused by criminals."
Copyright Press Association 2014