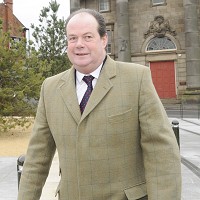 The Government has highlighted the personal financial cost that a drink-driving offence can have on people as it launched a spring road safety initiative.
When fines, legal costs, higher car insurance premiums and potential job losses are taken into account, the Government estimates that a first drink-driving offence can cost someone between £20,000 and £50,000.
As a result, Road Safety Minister Stephen Hammond has been showing off a pint of beer in a protective glass case surrounded by security guards - the "£50,000 pint" - as part of the new campaign's launch.
The latest edition of the THINK! campaign, which will feature more TV and radio adverts, has cost the Government £1.68 million but Mr Hammond says it is vital to stress how much of an impact drink-driving can have on individuals.
"It might only look like a humble pint of beer, but it could end up costing much more than a few quid.
In fact, it comes with an eye-watering hidden cost if it pushes you over the limit," he said.
"Most people know not to drink and drive but a small number still do, which is why we are highlighting the consequences of a drink-drive conviction through our THINK! campaign."
As well as the personal financial cost that the Government has calculated and having your driving licence taken away, the Road Safety Minister was keen to emphasise that ultimately you could even go to prison if you are caught drink-driving.
Copyright Press Association 2013