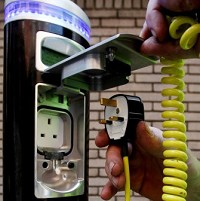 The Government has admitted that the widespread use of electric cars will not happen "overnight" despite large-scale public spending on infrastructure.
Figures show that despite councils across the country forking out more than £7.2 million on car charging points over the past three years, many are not being used at all.
One in six councils had at least one point which had not been used at all over the past 12 months while less than a third of authorities had a charging point which was being used on average more than once a week. The figures were obtained by BBC Radio 4's You and Yours programme under the Freedom of Information Act.
A Department for Transport (DfT) spokesman said: "No one is pretending that everything can change overnight.
"The Government is putting serious investment into the UK low emissions vehicles sector, including for electric cars.
"We are seeing encouraging growth in the number of people using electric cars - for example there were 966 claims for the plug-in car grant in April-June 2013, almost double the number seen in the same quarter of the previous year."
The spokesman said the Government would continue to invest in the infrastructure to support the take-up of the new technology.
Copyright Press Association 2013