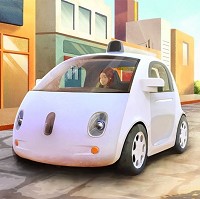 Imagine a car that doesn't need a steering wheel and has no means of stamping on the brake or stepping on the gas.
Such a thing will soon exist thanks to tech giant G oogle. Boss Sergey Brin revealed at a conference in the US on Tuesday that the company is making 100 self-driving cars.
There will be 'go' and 'stop' controls, but no brake or accelerator pedals, and crucially no steering wheel - because they're simply not needed.
The prototype cars, which harness Google Maps data and work via computers and sensors, will not be available to buy and will initially have a top speed of just 25mph.
Google co-founder Mr Brin said existing transport networks do not work well for many people and the new technology aims to change things for them.
He was in California for the Code Conference, where the director of the self-driving cars project emphasised Google's wish to work with external partners.
Chris Urmson said it could be a huge coup for older drivers, who can keep using cars after the point where they have to give up manual driving, giving them more freedom.
Google has so far worked with Lexus and Toyota in developing the cars, fitting people carriers and Priuses with technology that lets them drive themselves. These have been tested extensively on roads by members of the US public.
The newly-announced prototypes, however, will be built by the technology company, although it admitted it is unlikely to become a full-blown carmaker in its own right.
Copyright Press Association 2014