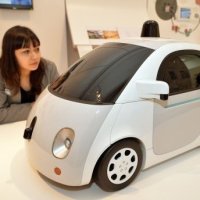 A new technology designed to protect pedestrians if they get hit by a driverless car has been patented by Google.
And although specifically designed for self-driving vehicles, Google says the safety feature could be used on any vehicle.
The technology - a sticky coating that could be applied to the bonnets of vehicles - is aimed at lessening the injury caused in the event of a collision with a pedestrian.
Its patent description says the idea is for the adhesive coating to activate on contact and stick to a pedestrian "nearly instantaneously". Instead of immediately bouncing off it, the pedestrian would then be carried forward on the front of the vehicle until its brakes are applied.
That, the patent description adds, could result in the pedestrian coming to a more gradual halt and not being as seriously injured.
Google has not yet announced any plans to use the technology on its autonomous cars.
The company has been testing its driverless cars in the US for the last few years, mainly on roads in California.
Copyright Press Association 2016. Motoring News articles do not reflect the RAC's views unless clearly stated.