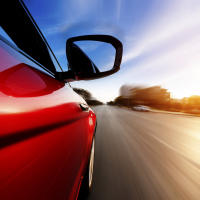 Google's driverless cars could soon be seen on UK roads if they cross the Atlantic for a series of trials.
Eric Schmidt, chairman of the firm's parent company, claims one of Britain's leaders has suggested it pick a city and start testing as soon as possible.
He says officials are currently considering the proposal, which would make the UK Google's first international test country.
The company has been building self-driving cars for more than six years, covering more than 1.4 million miles in the process. But so far testing has been limited to the US, with trials in cities such as California, Texas and Washington.
Trials of driverless cars are already under way in Milton Keynes, Greenwich, Bristol and Coventry, as the Government invests £100 million into automated car systems over the next five years.
Mr Schmidt believes self-driving cars will bring huge benefits to humanity. He says the cars' ability to see 360 degrees will help to reduce the number of road traffic accidents, keeping drivers and their passengers safe when travelling from A to B.
Google has already held five face-to-face meetings with the Department for Transport in the last two years about autonomous vehicles.
Copyright Press Association 2016. Motoring News articles do not reflect the RAC's views unless clearly stated.