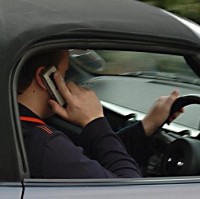 People caught wearing Google's new Glass device whilst behind the wheel are likely to be punished, the Government has said.
Google Glass, which goes on sale next year, is essentially a hands-free device, with users wearing a pair of spectacles, with one lens having a small screen which displays pictures, video and text. Instructions can be relayed to the device via voice recognition, but because of visual aspect of Glass, experts think it could distract drivers.
The Department for Transport (DfT) said: "It is important that drivers give their full attention when they are behind the wheel and do not behave in a way that stops them from observing what is happening on the road.
"A range of offences and penalties already exist to tackle those drivers who do not pay proper attention to the road, including careless driving which will soon become a fixed penalty offence."
The DfT said it was in discussion with the police to ensure that those caught using the device whilst driving are punished, though it is not clear whether Glass will be treated in the same way as a mobile phone.
Copyright Press Association 2013