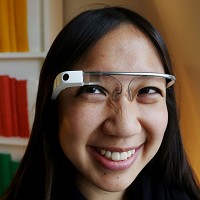 Drivers could soon be listening to their car music via Google Glass eyewear.
But Britons may have to wait longer to ask their glasses to play their favourite songs.
The American technology giant has announced proposals to include music with its new Glass eyewear to widen its appeal. But whether motorists will be able to wear Google Glass on the road could be dependant on an anticipated test case in the US.
US driver Cecilia Abadie plans to fight a fine for wearing the internet-connected device after being stopped in California.
Such a test case could determine whether wearing Google Glass constitutes dangerous driving.
Google's US pilot sees the latest package for the augmented-reality gadget enable wearers to search for songs, scan through saved play lists and hear music.
The eyewear, which is worn as lenseless frames with a tiny computer and transparent screen above the right eye, will display "listen to" as among its standard voice commands.
Wearers will also be able to stream music via Play, Google's media and apps hub.
A Google UK spokesman told the Press Association there are no current plans for launch or expansion outside of the US.
Copyright © Press Association 2013