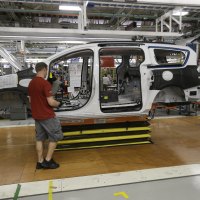 Collaborative work into self-driving technology between Google and Fiat Chrysler Automobiles is underway in the US.
Announced on Wednesday by Google's autonomous vehicles chief John Krafcik, a pioneering new engineering and development centre will also open in Detroit off the back of the ground-breaking tie-up.
Work is to focus around the Chrysler Pacifica minivan - developing technology and processes to install self-driving specifications into 100 models. By researching the necessary techniques, the power pair hope that autonomous driving technology will soon be able to be installed on the assembly line, and also perform more effectively on the roads.
Engineers will start to move to the new Michigan site this year, which will act as a base for Google's autonomous driving research, it confirmed.
A deal between the Internet giant and Fiat was signed earlier this month - the manufacturer becoming Google's first ever automotive partner. Silicon Valley has been among the high-profile destinations Google has been trialling its technology to date, catching the attention of several automotive companies.
The new site in the Novi suburb joins the many auto parts suppliers, engineering firms and research offices already established in the area.
"Many of our current partners are based here, so having a local facility will help us collaborate more easily and access Michigan's top talent in vehicle development and engineering," according to Mr. Krafcik's online posting.