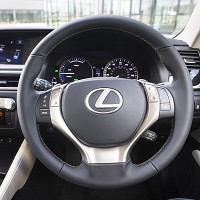 Google's self-driving cars have been involved in several minor traffic accidents since experiments began in the US.
The technology giant, which has been trialling driverless vehicles in California for the past six years, admits 11 collisions have taken place during this time - but claims the self-driving car was not to blame in any of them.
It is now a legal requirement for test permits on public roads to report all accidents, no matter how small.
Writing in an online post, Chris Urmson, director of the company's self-driving car project, reveals the extent of the accidents was light damage to the vehicles.
He says no one was injured in them.
The collisions took place over 1.7 million miles of tests, of which one million miles were conducted in self-driving mode.
Despite this recent admission, Google is yet to publish any records about what happened in each of the cases and critics of the emerging technology have expressed concern at this apparent lack of transparency.
Safety is a key issue in the debate regarding the introduction of driverless cars.
It is feared that giving complete control of a vehicle to a machine, as Google plans to do, means humans may be powerless to intervene if it loses control.
Reports suggest the ultimate goal of the company is to produce a car without a steering wheel or pedals.
It is as yet unknown how this lack of driver control would affect car insurance claims.
But Mr Urmson says human error and a lack of attention have caused the 11 accidents since testing started in 2009.
He reveals the cars have been rear-ended on seven occasions, mostly when stopped at a junction but also on the freeway.
The cars were sideswiped or hit by a car rolling through a stop sign in the other cases.
Eight of the 11 accidents were on city streets, while the project director also describes instances where the cars avoided hitting other cars or cyclists on streets near the company's Silicon Valley headquarters.
Copyright Press Association 2015