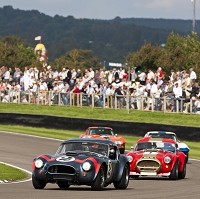 A glorious double diamond anniversary for British motorsports will be celebrated at the Goodwood Festival of Speed in 2015.
The four-day motoring extravaganza will celebrate 60 years since two major British wins in 1955; a year which many see as the beginning of Britain's golden age of motoring.
In 1955 Sir Stirling Moss and Denis Jenkinson pulled off an astounding win at the iconic Mille Miglia road race in Italy.
Meanwhile, in the same year, fellow Brit Tony Brooks and his Connaught team managed the first all-British Grand Prix win since the war, at Syracuse.
Both wins were sources of huge national pride and both signalled the start of highly successful motor-racing careers.
In addition to his 1000 mile success in Italy, Sir Stirling won 212 of the 529 races he entered; including 16 Formula One Grand Prix, becoming an inductee into the International Motorsports Hall of Fame.
Brooks meanwhile went on to win Grand Prix in Britain, Monaco, Germany and the US, becoming known around the world as the 'racing dentist'.
Next year is also the 90th anniversary of the first ever world championship and 50 years since Britain's Derek Bell won the first of five Le Mans 24 races in 1965.
Copyright Press Association 2014