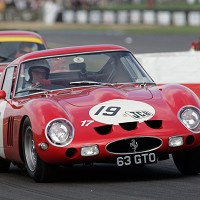 This year's Goodwood Revival festival will host a collection of some of the most valuable cars in existence, it has been confirmed.
An estimated £600 million worth of classic cars and motorcycles will be present - among them a group of 15 Ferrari GTOs that will be 50 years old this year and total £300 million between them.
Connoisseurs will also be pleased to learn that the show will feature around 10 pre-war Silver Arrows - the Mercedes and Auto Union racing cars which are completely irreplaceable. Although technically priceless, they have been conservatively valued as a collection at 'comfortably in excess of £100 million'.
A consistent highlight of the Revival weekend is the one-hour, two-driver RAC TT Celebration race, in which a charged grid of super-rare GT cars is driven around the Hampshire circuit by legendary past and present racers.
The grid will this year showcase a breathtaking £100 million array of internationally renowned vehicles, such as the Aston Martin DB4GT, the Ferrari 250 GTO and GT SWB, Zagato and Project cars plus Jaguar E-types.
Copyright Press Association 2012