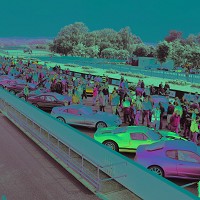 A mouthwatering mixture of top food and eye-catching vehicles are on the menu for next year's Goodwood Breakfast Club in West Sussex.
The calendar for 2015 sees the 10th Breakfast Club season which will this year boast a Goodwood organic breakfast.
And as well as food for the stomach, there will be a feast for the eyes with the myriad vehicles; shown in the form of five Breakfast Clubs, each on the opening Sunday of the month, except in July and September.
Aston Martin, Porsche, Ferrari, Lamborghini, McLaren and others will kick off Supercar Sunday, the first event of the season.
Rounding off the season on November 1 is a new event - Bahn-Stormers Sunday; a climax bringing enthusiasts' Audi RS and Mercedes AMG vehicles together with BMW motorbikes.
In between these two giant occasions are Soft-Top Sunday on June 7 which shows off cabriolets and convertibles, and Thoroughbred Sunday on August 2 featuring pre-1966 machines.
Cars and motorcycles with "vee" engines feature on Vee-Power Sunday on October 4.
Copyright Press Association 2014