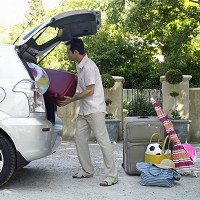 The summer holiday season is in full swing and millions of Brits are looking forward to driving off for a week in the sun, so a road safety charity is providing drivers with a few tips to make sure their breaks aren't ruined before they even reach their destinations.
Institute of Advanced Motorists' (IAM) chief examiner Peter Rodger's first tip is to give vehicles an inspection before setting off by carrying out quick and simple checks on fluid levels, tyres, mirrors and windows to avoid mechanical problems and the need to use breakdown cover .
Luggage should be packed and secured in the boot if possible, but if room is required on the back seats, motorists must make sure they still have a clear view out of the rear window.
Planning is vital to smooth journeys to make sure there is plenty of time to get to the airport.
People in a rush are more likely to make driving errors and possibly drive faster than they should.
Knowing the route well is also a good idea, as is checking for road closures or traffic hotspots the day before the journey.
Drivers need to be alert at all times, so getting a good night's sleep is vital. Rest stops should be scheduled in long journeys to avoid driving while tired.
Airport parking can be busy but it is a good idea to find plenty of room if possible to avoid the possibility of people scratching your car with their luggage.
Mr Rodger says preparation is the key to making holiday journeys run smoothly.
Copyright Press Association 2013