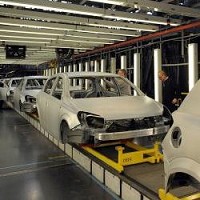 Workers at the Vauxhall plants in Luton and Ellesmere Port are likely to keep their jobs after General Motors (GM) moved towards a decision not to sell its European business, according to sources.
Months of speculation over the future of the business is expected to be ended when an announcement is made in Berlin. The worldwide slump in car sales had led the US company to consider selling its European Vauxhall and Opel brands.
Should GM have sold to Canadian firm Magna, backed by Russia's Sberbank, unions feared there may be heavy losses among the 5,500 workers employed at Vauxhall's factories in the UK. RHJ International, a Brussels-based investment house, also bid. However, a two-day meeting of the GM board in Detroit is believed to have concluded with a decision not to proceed with the sale.
GM has yet to make a comment on the speculation, but a decision not to sell the European business could be bad news for operations in Germany.
The GM board had been urged to take an "objective, commercial decision" over its European future by Business Secretary Lord Mandelson. He said the decision was crucial to the viability of Opel and Vauxhall in the UK and should not be "distorted" by political considerations.
Copyright © Press Association 2009