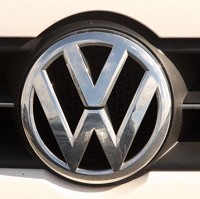 The Volkswagen Golf is Europe's best-selling car, new figures show.
The hatchback increased sales by 17.9% in April compared with the same month in 2012.
Four smaller cars, the Renault Clio, Volkswagen Polo, Peugeot 208 and Ford Fiesta - complete the top five best sellers.
Five car manufacturers recorded increased sales in April - Volkswagen, Ford, Opel/Vauxhall, Audi and Mercedes. However Mercedes was the only brand in the top ten to post an increase in year-to-date sales, with sales 2.4% higher than in 2012.
Dacia, Seat, Land Rover and Subaru all recorded good sales in April.
Gareth Hession, vice president of research at Jato, said: "The latest figures show just how much difference having a new product can make, with Volkswagen, Peugeot, Renault and Audi all enjoying increased sales."
The figures, from Jato Dynamics, show that in total the European new car market was up by 2% last month, compared with April 2012. However year-to-date sales are down by 7.1%.
Of the five biggest car markets inEurope , Britain, Germany and Spain recorded increased sales while registrations were down year-on-year in Italy and France.
Copyright Press Association 2013