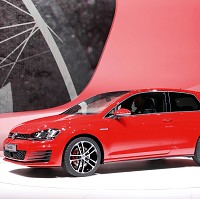 The new Volkswagen Golf GTD is now available to order, with the car due to hit showrooms from June 2013.
The German auto maker has unveiled the GTD's specifications, which suggest a seamless blend of performance and efficiency.
The zippy new GTD has a top speed of 142mph and can do 0-62mph in 7.5 seconds, Volkswagen revealed.
Featuring the latest version of VW's 2.0-litre TDI diesel engine, the new GTD is faster than previous models.
Peak power is maintained between 3,500 and 4,000rpm, while peak torque arrives between 1,750 and 3,250rpm.
The new Golf GTD produces only 109g/km of CO2 emissions, meaning road tax costs just £20 per year after the first year, which is free.
The new model is available with a £1,415 six-speed DSG gearbox, although that does up CO2 emissions to 119g/km, raising road tax to £30 per year.
The three-door manual model costs £25,285 without any optional extras, while the five door version retails for an additional £655.
There are four possible GTD configurations, peaking at £27,355, all of which are available to order now.
All Volkswagen cars come with a three-year or 60,000 mile warranty as standard, although drivers will still need breakdown cover to cover them in the event of emergencies.
Copyright Press Association 2013