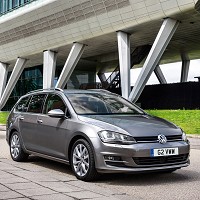 Volkswagen has given the Golf 60% more boot space to cope with bigger loads with its new estate version.
The latest Golf Estate, the Mk VII, has the same wheelbase as its hatchback cousin but the luggage area, between the boot to the rear seats and up to the load cover, is enlarged from 380 litres to 605 litres. It is also considerably more spacious than the 505 litres offered by the Mk VI.
Flipping the seats down gives drivers a massive 1,620 litres of load-carrying space, while the previous Golf Estate offered 1,495 litres. The latest version can carry 600kg, similar to some small vans, and depending on the engine it can tow braked trailers and loads of 1,600kg onjourneys involving 12% inclines.
The seats fold completely flat in the multi-level boot floor and the rolling cover can be stowed away underneath too when it isn't required. There is also a remote release in the boot for folding the back seats.
It comes with a choice of four petrol and three diesel engines. There is a five-speed manual, turbocharged 1.2-litre TSI, while the 1.2-litre TSI 104bhp, 1.4-litre TSI 120bhp and 1.4-litre TSI ACT 138bhp versions can have six-speed or seven-speed DSG gearboxes. The latter petrol engine comes with cylinder deactivation technology.
The diesels start with the 89bhp 1.6-litre TDI, while there is a 104bhp version and the top of the range 2.0-litre TDI with 148bhp. They come with five or six-speed gearboxes and those who choose the 104bhp and 148bhp diesels can have DSG automatic gearboxes instead for an extra outlay.
Copyright Press Association 2013