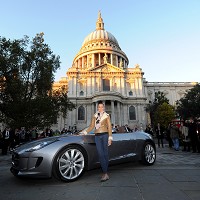 Golden girl Jessica Ennis can quickly get around an athletics track - but not as fast as her latest set of wheels.
The heptathlon champion at London 2012 will be taking part in the Lord Mayor's Show in the City of London, and has showed off the Jaguar F-Type car which will take her around a different kind of course on November 10.
The 26-year-old revealed that taking the car up to 150mph on a test run was an adrenaline rush.
The ambassador for the Jaguar Academy of Sport said: "I did get quite excited the other day when I was driving it - we got up to about 150mph and I don't think I can run that fast! It was a massive adrenaline rush, it's great to experience that kind of speed. But I don't think I'll be reaching that kind of speed anytime soon."
The Jaguar F-Type, which Ennis will drive in the procession in St Paul's Vista, was unveiled for the first time at the 2012 Paris Motor Show in September.
Copyright Press Association 2012