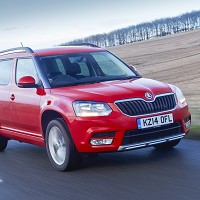 It's been another winning year for Skoda at a top motoring awards ceremony.
For the third year running, the Skoda Yeti claimed first prize for customer satisfaction - but there was more, as the Czech auto giant actually filled out the top three slots.
Satisfaction levels in general are up, and not just restricted to Skoda.
Drivers seem happier with their experiences behind the wheel than they were in 2002, when the poll was first launched. In fact, the average satisfaction level towards cars in the Auto Express Driver Power Top 100 was 88.36% - up a whole seven percentage points on 2002's figure.
The Yeti was followed closely by Skoda's Citigo and Superb models, scoring 92.7%, 92.6% and 91.6% respectively. The Yeti was top of the class for easiest drive, while the Citigo was also the most cost-effective.
Others to feature in the top 10 included the BWM 5-series, the Kia Rio, the MG6 and the Renault Captur.
The most popular class was off-roaders, with 31 models in the wider top 150. The biggest drop in terms of satisfaction was the VW Golf Mk4, which fell 73 places from last year's list.
_Copyright Press Association 2014_