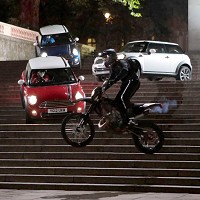 Britain's top athletes have taken part in a recreation of the Mini chase made famous in the 1969 film The Italian Job.
The short clip - dubbed The Britalian Job - featured gold medallists such as triple jumper Jonathan Edwards as well as decathlete Daley Thompson. A few of the crew members from Top Gear helped to shoot the movie ahead of the Games, with some of the capital's landmarks shown in the backdrop as well as the stadium itself.
It may not have been filmed in Turin, where the location of the original chase took place, but the new clip also used Minis - although more updated models than those in the older film - in tribute to the collaboration between the car manufacturer and Britain's teams in the Olympic and Paralympic events.
Jodie Kidd played the unknown motorcyclist as special edition red, white and blue London 2012 Minis were seen hurtling through areas in Knightsbridge in an attempt to stop her.
Mini owners may be tempted to recreate the scene for themselves but it is strongly advised that they do not copy any of the stunts as it could affect theircar insurance premium in the future.
Copyright Press Association 2012