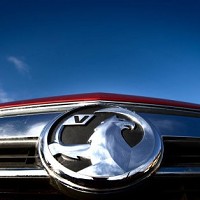 General Motors' (GM) is celebrating its 90th anniversary of owning Vauxhall by reaching an unprecedented manufacturing milestone.
The US giant's 500,000,000th vehicle has rolled off the production line with power to add.
This year it predicts it will ship over 1,000 new models every hour of every day, totalling a new company high of almost 10 million machines.
GM secured its inaugural overseas acquisition, UK-based Vauxhall - today the company's fourth biggest market - in 1925. The investment has swiftly paid off with millions of motorists buying a car from the Vauxhall range.
Britain's longest-enduring carmaker has sold almost 14.5 million models and has followed its parent company into pioneering innovation.
GM has introduced V-8 engines, production vehicle airbags and automatic transmission.
Vauxhall, similarly, founded the inaugural British motors boasting front suspension independent in the shape of the DX and DY 80 years ago.
In 1937, it pioneered the then only British motor to contain an integral chassis and body with the introduction of the H-type. Possibly most significant of all though, is Vauxhall's 112 successive years producing vehicles, a run that not even two world wars could halt.
In fact, the conflicts saw its Kimpton Road, Luton factory produce the Churchill Tank for the Second world War and the D-type Army Staff Car for the first.
Nowadays, the plant still makes the Vauxhall Vivaro van. Another 5 million motors have been built over 51 years at Vauxhall's Ellesmere Port plant in Cheshire.
Vauxhall's managing director and chairman Tim Tozer lauded Vauxhall for its "significant contribution" regarding GM's success. Mr Tozer said that Vauxhall was "very proud" being a part of GM's global family.
GM's CEO Mary Barra said that the amount of cars rolling off its production lines this year equates to 10 million chances to underline the sort of firm it is.
Vauxhall's stable remains as varied as ever. Models include the new Corsa, Mokka, Astra, Adam, Insignia, Viva, GTC, Zafira Tourer and Meriva. Golden "oldies" include the iconic Cavalier and Victor.
Copyright Press Association 2015