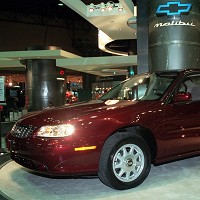 A further 8.4 million cars are being recalled globally by General Motors (GM) due to ignition switch defects, with the auto giant reporting it knows of three deaths relating to the faulty vehicles.
The defects are chiefly in vehicles made between 1997 and 2014, with the troubled US company admitting a further seven crashes and eight injuries among the cars recalled.
But GM said there is no conclusive evidence the crashes happened as a direct result of the switch faults.
There will be no cap on the amount of payouts for victims, says Kenneth Feinberg, who was appointed by the firm to handle customers affected by recalls.
GM announced it will take a charge of 1.2 billion dollars (£698,822,730) for repairs on the recalls - 7.6 million of which are in the US.
Its earlier estimate was for 700 million dollars (£409,149,136).
In a separate issue, California's Orange County announced that it filed a civil lawsuit against GM, with the county's district attorney saying the company endangered the public via deception over vehicle safety and reliability and, through unfair business practices, won advantage in competition.
Copyright Press Association 2014