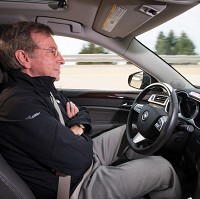 Science-fiction is becoming science-fact, with General Motors' claim that it is within two years of offering vehicles that can talk to each another.
They will also be nearly able to drive themselves while maintaining A-road and motorway speeds.
The new summer 2016 Cadillac is expected to be the recipient of optional semi-autonomous highway technology called Super Cruise.
In addition, the US manufacturer aims to install car-to-car receivers and transmitters on every Cadillac CTS vehicle at the same time.
The implications of car insurance premiums and autonomous vehicles are yet to be fully explored. But Super Cruise enables motorists to drive hands-free when the network deems it sufficiently safe to do so.
GM's John Capp says the technology will enable motorists to travel long distances without having to do much work themselves. But drivers will still be required to pay attention, Mary Barra, GM CEO, added.
Mr Capp says GM is thoroughly testing and technologically refining the system before it is launched on production cars.
Copyright Press Association 2014