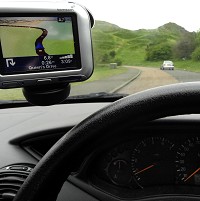 Motorists have been led into open water, front gardens and nearly off cliffs by their sat-nav devices but most drivers still depend on them, a survey has found.
Nearly half of sat-nav users say they have been led astray by their gadgets but 64% of drivers rely on the devices and 19% said they could not live without them.
A total of 2,000 people were polled by windscreen repair company Autoglass, which found the most likely sat-nav glitches were sending drivers down a dead end or the wrong way down a one-way street.
Autoglass' managing director Matthew Mycock said: "While sat-nav malfunctions do sometimes cause accidents and lead to dangerous situations, we would always urge drivers to exercise a degree of common sense when using technology on the roads.
Motorists should always ensure they are prepared for a long drive before jumping into the car."
Before a long trip, drivers should plan their route in advance, check their tyres and ensure they have up to datecar insurance .
Copyright Press Association 2012