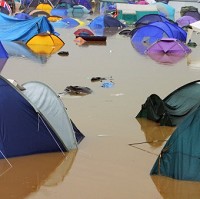 Revellers driving to Glastonbury this week are urged to pack their driving essentials, as well as their wellies.
The RAC has made the call as thunderstorms and rain threaten to dampen the five-day festival, which starts on Wednesday.
Anyone setting their journey planner to Worthy Farm in the Somerset village of Pilton should stock up with oil, coolant and other essentials - while a special Glastonbury breakdown cover team is in place just in case drivers run into trouble.
Glastonbury is synonymous with mudbaths and 2015 could be no exception, with the remains of tropical storm Bill likely to rain down on the world-famous festival.
The tropical storm Bill is expected to put in an appearance at the weekend.
It has already brought deaths and floods to the US and its fragments are likely to bring a wet weekend for multitudes of music lovers hoping to hear an eclectic mix of sounds.
RAC head of external affairs Pete Williams said: "Music lovers attending the Glastonbury Festival this weekend will go knowing there is some rain forecast - but aside from packing your wellies and an extra poncho, those driving need to go prepared too.
"Long queues on the roads into and out of the site are the norm, and it's easy for cars to overheat.
"We recommend you top-up your coolant, windscreen washer fluid and oil before setting off, and remember to switch your engine off if you are stuck idling in those tailbacks.
"The RAC has a dedicated team of patrols at Glastonbury this year, as it has done for many years.
"They will be on hand to assist festival-goers and even the big name acts if they run into trouble around the clock with everything from lost keys, flat batteries, punctures and even lost vehicles - not forgetting helping drivers get out of the thick Somerset mud if the weather takes a turn for the worse."
The Met Office predicts the presence of rain in Somerset on Saturday, without the day being a total washout. And it adds that the festival should kick-off in dry conditions.
Among the star turns at Glastonbury this year are Motorhead, Kanye West, Pharrell Williams, Lionel Richie, The Fall, The Proclaimers, Donovan and Florence and the Machine.
Copyright Press Association 2015