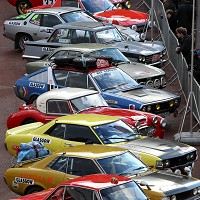 Plans are being made for the Monte Carlo Classic Rally to return to Glasgow in 2014.
Douglas Anderson, who successfully asked the French organisers to choose Glasgow as a host city in 2011 and 2013, said of his desire to bring the event back to Scotland: "The eyes of the world will be on Glasgow next year for the Commonwealth Games so the timing and the mood within the city would be right."
He was speaking after a record 15,000 spectators cheered 100 classic cars over the start ramp at the People's Palace on Saturday.
Before he left for Monte Carlo in a Triumph Vitesse, he said the Monte Carlo Classic Rally has "once again" been a "runaway success" for Glasgow.
He added: "I am really quite speechless at the crowds we've had, both at the People's Palace and the static display at Buchanan Street."
A spokesman for the Monte Carlo Classic Rally in Monaco said it would be a decision for the rally committee "but certainly we have been happy with the organisation from Glasgow and the co-operation we have received".
It is seen as a necessity for classic car owners to have sufficientbreakdown cover.
Copyright Press Association 2013