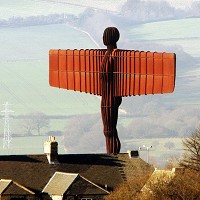 Two women publicly outed a man alleged to have dated them both at the same time, by means of a banner over the A1.
Thousands of motorists heading north to Newcastle and Gateshead on their Wednesday morning commute would have seen the message "Steve Frazer you're dumped by both of your girlfriends" on a bridge near the famous Angel Of The North sculpture.
The red and yellow banner carried a selfie image of the two women involved, Nicola Morland and Angela Illingworth, and a separate picture of a man in a black North Face jacket.
Speaking to the Newcastle Chronicle, Ms Morland, said they had "proved a point" but the situation had gone far enough.
Ms Illingworth is thought to have gone on holiday to Spain.
The two women had never met before but Mr Frazer is alleged to have been seeing them both for several weeks.
The banner has been taken down as it was proving a distraction; because of its location many people would have seen it.
Copyright Press Association 2014