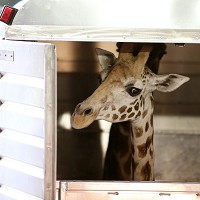 A design team in Holland created the blueprint for a bespoke trailer that transported two giraffes on a seven-hour, 320-mile journey across the UK.
The creatures were travelling all the way from Twycross Zoo in Warwickshire to their new home at Blair Drummond Safari Park, not far from Stirling. The driver was careful to ensure that the trailer didn't have to pass under any low bridges.
Now Keisha, 14, and Harriet, 7, are settling in to their new surroundings thanks to a trailer with an adjustable roof that can reach 20 feet high. They have joined three other females in the park's herd - Bella, Ruby and Kelly.
The park manager at Blair Drummond, Gary Gilmour, said: "The move went great and they have been calm the whole time. They are still getting used to the change but both have been out exploring their new home."
The height of the trailer was specially designed to accommodate Keisha's 18-foot frame. Mr Gilmour says the animal is one of the tallest female giraffes he has encountered.
Copyright Press Association 2012