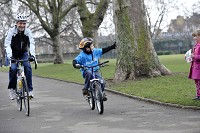 Almost three-quarters of children would like to cycle to school more, as a charity launches its new drive for improved road safety.
Thousands of school pupils are set to take to the streets in the Giant Walking Bus campaign, which has been organised by safety charity Brake.
A survey carried out by Brake and the Government found that 76% of pupils said they would like to use their bike more, whether to go to school or the park, or simply to visit friends.
However, more than half (56%) of the 5,000 children quizzed admit they have concerns they could be knocked down if they cycle or even walk on local roads.
An overwhelming majority (81%) said that motorists should slow down around schools or homes.
RAC's head of external affairs Pete Williams said: "The Giant Walking Bus campaign is a fantastic way to get young people and their parents involved in road safety.
"In 2012 a total of 1,045 children were injured as pedestrians and 175 as cyclists in London which equates to 12% of these accidents for all ages. Sadly, five of these children were fatally injured.
"The RAC has just launched our own Child Road Safety Campaign with Horace a new road safety mascot for the 21st century created by Aardman and endorsed by the Department for Transport's THINK! campaign.
"We are encouraging school children across the UK to use their creative skills to make their own road safety animation movies. We believe that it is every child's right to receive suitable training to equip them to keep safe on and around our roads and to help them become safe and responsible road users."
Visit rac.co.uk/childroadsafety to find out more about our road safety animation competition and 'Like' Horace's Facebook page facebook.com/HoraceChampion
Brake wants a 20mph default speed limit for urban areas and the charity's deputy chief executive Julie Townsend urged that children, and not motor vehicles, have to be put first by ministers.
A spokesman for the Department for Transport said that 20mph limits can cut deaths "on certain roads" and that everything must be done to prevent road casualties.
Copyright Press Association 2014
https://www.facebook.com/horace.champion (facebook.com/HoraceChampion)