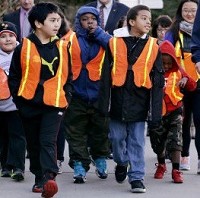 Thousands of children are taking to the streets to help put road safety in the spotlight.
A safety charity hopes that 100,000 children aged between five and 11 will participate in its Giant Walk .
The event sees schools organising young classmates to go on overseen crocodile walks around safe pavements.
Brake's annual event, backed by the Brantano shoe firm, coincides with a new poll.
It shows that just one in four fathers and mothers believe their child's home-to-primary-school journey is sufficiently safe to cycle or walk with no supervision.
The charity's walk comes as the number of children seriously hurt or killed on the UK's roads has hit levels not seen for two decades.
This was according to a provisional Department for Transport report published in February.
In the new poll of 1,000 adults, parents blamed heavy traffic and not enough safe cycle paths, footpaths and crossings for not allowing their primary school age children to cycle or walk unsupervised.
As many as one in eight parents (12%) either speed or speak on their mobiles while doing their school run, the survey showed.
Almost a quarter (23%) failed to keep to the 20mph restrictions set around schools, shops or homes.
Brake, which wants commonplace 20mph speed restrictions introduced, said that nearly half (46%) the primary schoolchildren population get driven to class.
This, the charity said, can lead to traffic hazards, bad health and road jams.
Walking, conversely, can help children to become healthier, said Brake.
Julie Townsend, its deputy chief executive, said that recent studies have pointed to marked warnings concerning the would-be ramifications of further physical inactivity from the UK's population.
She said that the country's schoolchildren would feel these effects hardest.
They could potentially be exposed to bad health throughout their lifetime if they remained sedentary, as well as having to pay for increasing healthcare costs, Ms Townsend added.
She said that such a health "crisis" could be prevented, but only if the authorities took immediate measures.
Copyright Press Association 2015