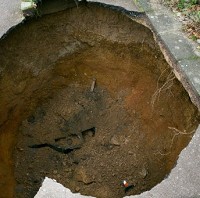 Old Roman mines could be to blame for a huge sinkhole that opened up in the middle of a road in Somerset, it has emerged.
Highways officials say it is not clear exactly what caused the 11ft deep hole on the B3135 near Wells. But they believe it could be linked to either soil erosion and ground water or historic mining activities in the local area which date back to Roman times.
Highways engineers working for Somerset County Council were greeted by the sight of the 16ft wide hole when they went to inspect part of the road at Green Ore.
The road had to be closed off to traffic while the hole was filled with almost 200 tonnes of stone.
Drainage and resurfacing work was then carried out, enabling Roemead Road to reopen.
The council's cabinet member for highways, Harvey Siggs, said such extreme incidents are very rare.
He said the county's roads had been especially hard-hit during what was one of the wettest winters on record, with engineers having to repair more than 25,000 potholes alone last year.
Copyright Press Association 2014