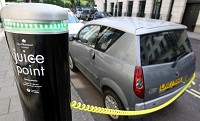 Germany hopes to get a million electric cars on the road by 2020.
Only 1,452 cars of the 41 million on the streets at the beginning of this year are electric.
A campaign has been launched to considerably increase the number of electric cars in a bid to make the country a market leader.
Economy minister Karl-Theodor zu Guttenberg believes the target, though "ambitious", could be realised.
About £100 million is expected to be spent on examining how cars could best be introduced in eight test regions.
The government also plans to invest £160 million on research on batteries. Domestic production will be made a priority and experts from Germany would be trained in the technology.
Mr Guttenberg said: "It is important that we couple a hopefully decreasing dependency on oil imports with not suddenly becoming dependent on battery imports."
Although it is planned that electric cars be put on the market in 2012, the plan does not specify if would-be buyers might be offered any incentives.
The new government to be elected on September 27 is sure to include at least one of the two partners in Chancellor Angela Merkel's "grand coalition" of the country's biggest parties.
Copyright © Press Association 2009