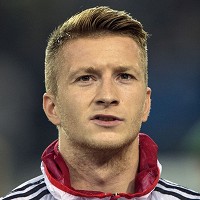 German football star Marco Reus has paid the penalty after being caught driving without having passed his test.
Reus, 25, who was fined more than 500,000 euros (£432,000), admitted to the German-based Bild newspaper that he cannot explain why he did it.
The verdict came after the attacking midfielder was stopped in an Aston Martin in Dortmund earlier this year.
Reus now faces his first driving test - and is likely to suffer inflated car insurance premiums because of the offence.
The Dortmund star's fine reflected his large salary. But his club said that they will not punish him further.
Reus suffered disappointment earlier this year when he missed out on Germany's World Cup win in Brazil.
He played a big part in the qualification campaign, but had to withdraw from the squad after sustaining an injury in a warm-up match.
Reus, who is famed for his speed on the pitch, also seems to live life in the fast lane off it, having reportedly received speeding fines down the years.
The player has been linked to a move to the Premier League next year, with Manchester United, Arsenal, Liverpool and Chelsea all reported to be in the market for him.
Copyright Press Association 2014