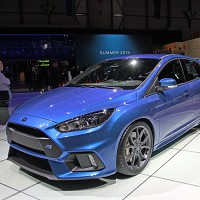 Those at The Geneva Motor Show pre-event were the first to see Ford's new Focus RS.
The car, which made its world debut alongside the impressive GT supercar, boasts a 2.3-litre turbocharged four-cylinder EcoBoost petrol engine which can deliver 316bhp.
It also features the new Ford Performance four-wheel drive system - the first Focus to break from two-wheel drive - and can break 150mph, going from 0-62mph in under six seconds.
The four-wheel drive system uses a complex arrangement of twin clutch packs at the rear which can divert power between the front and rear wheels as well as side-to-side.
The new system allows for torque vectoring but can also be altered depending on the drive mode. A 'drift' mode is available for an extreme ride.
The Focus RS comes with larger disc brakes both at the front and the rear, while the suspension has also been improved.
Sales in the UK are set to begin in just a few months, with a price tag of £30,000 upwards.
Copyright Press Association 2015