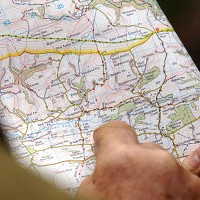 Almost 40% of drivers do not know how to read a traditional map, according to one new study.
Old-fashioned navigation is beyond the reach of many British people, the study would have you believe, with 16% of poll respondents saying they rely entirely on their sat-navs to get them from A to B.
Many others refuse to admit they don't know where they are for fear of losing face, with just under a third saying they will point-blank refuse to stop and ask for directions - no matter how strange a turn their journey has taken.
Another third told the survey by Garmin they have become embroiled in rows and arguments with their other halves over directions.
A spokeswoman commented that Generation Y looks on technology as a necessity, and not a luxury.
Copyright Press Association 2014