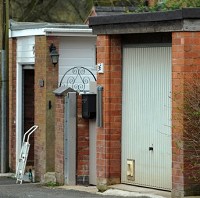 An increasing amount of garages in the UK are being used for everyday storage space rather than safe houses for cars, new RAC Home Insurance research reveals.
Almost half (4.6 million) of the 10.6 million garages in Britain have been re-purposed for alternative uses other than storing a vehicle.
The RAC survey, conducted among over 1,000 car owners, shows the majority of respondents (62%) no longer use their garage and more people choose to store gardening and DIY equipment within.
Among those who no longer keep their car in the garage, around three-quarters (77%) use it for general storage; over a third (36%) have converted it into a workshop for DIY and hobbies, while almost one in 10 (8%) even have a home gym installed in there.
Space in the garage itself also appears to be a problem, even when there is a will to use it for its intended purpose.
One in five (19%) of those who do use it for their car say there is only just enough room to fit the vehicle in and it is a tight squeeze to get themselves out.
"It's frightening to think that nearly 5 million garages are not used for the purpose they were made," said RAC Home Insurance spokesman Simon Williams.
"The findings of our research appear to indicate that there is an issue with the design of houses as people do not have enough space to keep all their possessions in the house itself and many garages are so small that anyone in the car has to perform a contortionist act to get out.
"More than a third (37%) of the people we surveyed said they would still rather use their garage for its original purpose if possible, but for some the idea that the garage is a place to keep the family cars is secondary compared to the need for storage for household goods, or indeed to create additional living space by converting it into another room in the house.
"For all those who have garage storage, security is an important issue to consider as they are relatively easy targets for thieves looking for high value items such as bikes and tools. That's why it is essential to have the right insurance in case the worst should happen."
Copyright Press Association 2014