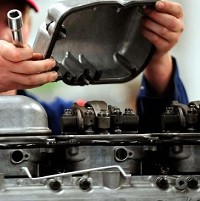 Motorists believe they are falling victim to rip-off garages that overcharge when they put their car in for a service or MOT, research has found.
A study by Motor Codes, the automotive industry's self-regulatory body, found one in five had been charged more than a garage's original estimate in the last five years, and a further 12% suspected they had been overcharged.
The research also shows 10% of drivers are suspicious that non-existent problems are invented to add to the final bill.
Other problems highlighted by the study were drivers being left confused by a mechanic's motoring jargon and others who were unsure of what work was actually done to their car.
As a result, a third of car owners have been dissatisfied with the service they received.
A Government report found overpricing and inconsistent repair work was costing Britain's motorists £4 billion a year.
For peace of mind when getting a service or MOT, car owners are advised to check that their garage is a subscriber to the Motor Industry Code of Practice for Service and Repair and to contact the Motor Codes if any problems arise.
Copyright © Press Association 2009