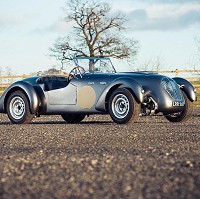 A rare sports car, restored after lying in a garage for three decades, is expected to fetch up to £180,000 when it is sold at auction.
The E-Type 1950 Healey Silverstone took two years to fully restore, having been in the garage since the early 1980s.
And the car - one of only 105 that were built - is now set to go under the hammer at Silverstone Auctions' sale next month.
The Healey Silverstone was built by the Donald Healey Motor Company and designed to be driven on both the racetrack and the road.
The firm built the vehicle to sell for less than £1,000 after the Government doubled the purchase tax on more expensive luxury cars.
Nick Whale, Silverstone Auctions' managing director, said it is hoped that following its sale the car, which has a 2.5-litre Riley engine, will make a return to the racetrack.
The two-day sale is due to be held during the Silverstone Classic race meeting on July 26 and 27.
Copyright Press Association 2014