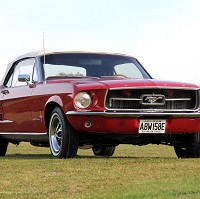 Game of Thrones actor Charles Dance is putting his Ford Mustang under the hammer. A £25,000-£30,000 valuation has been put on the 1967 convertible.
The star, who plays Tywin Lannister in the hit TV show, is selling the machine in an as-new condition 13 years after buying it.
Filming duties have kept 69-year-old Dance from using the iconic open-top as much as he would like, especially over the past two years.
The stunning red motor has benefited from a thorough restoration to its 1967 condition from Classic American Restoration Services' expert Phil King.
The work included the installation of wing and floor panels, while the coveted V8 engine has been totally reconstructed to keep its characteristic burbling exhaust sound. The interior has been given a complete re-trim with red leather. Its cream fabric is also as good as new now.
The Classic Car Auctions ' (CCA) sale is on December 5 from 2.30pm at Warwickshire Exhibition Centre outside Leamington Spa. Viewing starts from 9am.
Guy Lees-Milne, CCA general manager, calls Dance's machine a "beautiful" illustration of the Mustang and says the firm is "privileged" to sell it for the actor.
He anticipates much enthusiasm among bidders, saying the soft-top will suit Game of Thrones fans with a fondness for Mustangs perfectly.
Meanwhile, all-new Mustangs are becoming uniquely adapted for British roads this year. Never before have they featured right-hand drive until now and around 2,000 UK motorists have already placed their order.
Only two years ago Mustangs were rated drivers' most sought-after classic car in an AutoScout24 vehicle portal poll.
Copyright Press Association 2015