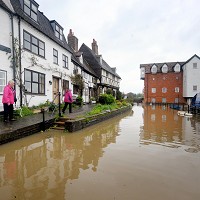 The floods may have subsided somewhat but experts are predicting a possible return later in the week along with freezing temperatures.
Although the worst of the downpours seemed to have abated on Tuesday evening, certain rivers are not far from their peaks and dozens of flood warnings remain active, with more rain and unusually cold, frosty weather also on the way.
While many areas are now experiencing some drier spells, senior forecaster from the Press Association's weather division Meteogroup, Paul Mott, insists that it could just be a matter of hours before the wet weather returns and more flooding occurs.
"It's turning drier over many areas now, and through the night and tomorrow it will be drier," he said.
"But then there will be further fairly heavy rain coming in from the east tomorrow night and it looks like there'll be some localised flooding again, particularly in low lying river valleys."
Wednesday night and Thursday could bring around 25mm of rainfall to South Wales and southern parts of England, making driving conditions far from ideal and increasing the demand on breakdown cover . However, it is thought that the storms may have eased again by Thursday afternoon.
Copyright © Press Association 2012