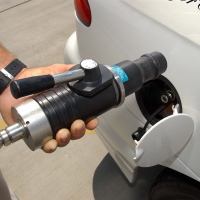 News that the Government is ploughing £2 million into promoting hydrogen-powered fleet vehicles has been broadly welcomed by the RAC.
The motoring organisation describes the move as "a step in the right direction", but says the correct infrastructure needs to be in place to support the vehicles, while also questioning whether it will be enough to encourage fleets to take up the technology.
The money is being made available by the Government's Office for Low Emission Vehicles (OLEV). B usinesses and public-sector organisations are invited to bid for funding to augment their fleets with zero-emission hydrogen-fuelled vehicles.
Those making a successful bid will be able to save up to 75% on the cost of buying the new vehicles. The cost of running them for three years will also be funded.
The goal is to treble the number of hydrogen-powered cars and vans on the road by spring 2017 by adding up to 100 to the number currently in use.
Transport minister Andrew Jones says the initiative forms part of the Government's aim to ensure that nearly all cars and vans are zero-emission ones by 2050.
Simon Peevers, the RAC's business spokesman, says: "Given the range of benefits that come with running zero and low emission vehicles in terms of running costs, there is certainly the will among businesses to make a change and realise those cost savings, if they can overcome the initial outlay. So it's welcome that the Government recognises the importance of supporting fleets to encourage the transition to zero-emission vehicles.
"Within the wider context of the fleet sector it remains to be seen whether £2 million is enough to make a serious impact on encouraging businesses to upgrade their vehicles, but it is a step in the right direction as long as there is the infrastructure in place to support the new technology."
By the end of this year it is expected that a dozen hydrogen refuelling station will have been opened following the £5 million worth of government funding announced in 2014.
Copyright Press Association 2016. Motoring News articles do not reflect the RAC's views unless clearly stated.