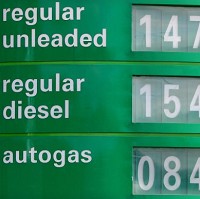 Average fuel prices have almost doubled in Britain over the last 10 years, according to new research from the Energy Institute.
The Retail Marketing Survey showed petrol prices climbed from 73.68p a litre in 2003 to 136.26p a litre in 2013, while diesel prices have risen from 75.57 to 142.39 per litre over the same period.
However, the study also showed that overall fuel sales in the UK have slumped in the last 10 years, despite more vehicles registered on Britain's roads than ever before.
Motorists in the UK have been feeling the squeeze from escalating motoring costs in recent years, with car insurance premiums soaring for young female drivers earlier this year.
Improvements in fuel economy and engine performance could account for a decline in fuel sales, although high prices at the pumps have also impacted on driver behaviour.
The survey found that both petrol and diesel sales fell by the close of business last year, but diesel continued to outsell petrol for the second consecutive year.
Petrol sales fell from 13.86 million tonnes to 13.42 million tonnes in the year to December 31, 2012, while diesel sales marginally declined from 13.91 million tonnes to 13.86 million tonnes.
Copyright Press Association 2013