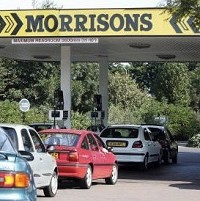 Drivers have been given a pre-Bank Holiday boost with major supermarkets once again announcing they have shaved their fuel prices .
Sainsbury's and Tesco have this time followed Morrisons' lead by reducing unleaded prices by 2p a litre on Thursday morning, with diesel being slashed by 1p a litre.
It comes less than a week after Asda cut the price of unleaded petrol by 2p per litre.
The RAC predicts that this could pave the way for sub-£1-a-litre prices for motorists, especially in the wake of falling oil prices across the world.
RAC spokesman Pete Williams said: "The decision by Morrisons, Tesco and Sainsbury's to cut petrol by 2p a litre and diesel by a penny will be warmly received by drivers planning on filling-up ahead of the busy Bank Holiday getaway weekend when we are predicting up to 14 million additional car journeys.
"We anticipate that other retailers will quickly follow suit as the wholesale price of fuel continues to drop in line with the falling price of crude oil as stock markets and commodity prices stumble.
"Crude oil prices have been in decline for over six months with reducing demand from the emerging markets and particularly China where the economy has faltered. This has meant that there is an oversupply of fuel on world markets which has been further compounded by the move by Saudi Arabia to open two major oil refineries pumping and OPEC's stance that they do not intend to cut production.
"The current price of a barrel of crude is just below $44 but if prices continue to drop this could get closer to the critical price of $40 a barrel which could push UK average pump prices below £1, however, that would require a further 10% drop in the markets."
The latest cuts have brought unleaded petrol prices to 18p a litre below those seen this time last year, while diesel is 23p per litre under its 2014 August Bank Holiday level.
Morrisons services director Jamie Winter says a comparatively strong pound plus falling crude oil prices worldwide are helping it return savings to customers.
Tesco fuel director Peter Cattell said its fuel price drop should help Bank Holiday travellers enjoy their weekend even more.
Copyright Press Association 2015