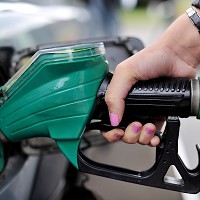 The fall in fuel prices has significantly boosted the UK economy, according to the Centre for Economics and Business Research (CEBR).
The economic consultancy says lower costs at the pumps have raised GDP by 0.5-0.6%.
Savings that the drop in petrol and diesel prices brought consumers and businesses have "filtered through into the economy", with lower prices for some goods, increased consumption and greater investment, the report adds.
This increase in economic activity will also help to create around 121,000 jobs, the CEBR estimates.
It concludes that while continuing the fuel duty escalator - which has been frozen since 2011 - would have brought in additional taxes, it would have been "an unwise policy" because it would have stifled job creation and economic activity.
The report states: "Our previous analysis has shown the savings that falling fuel prices have brought to consumers and businesses.
"Here we extend this analysis to show that falling oil and fuel prices have provided a considerable boost to the UK economy over the past year."
At the end of October, the average price of unleaded was 107.8p per litre, while diesel stood at 110p, according to RAC Fuel Watch.
Lower prices on the forecourt are being driven by the low cost of oil, which remains below 50 US dollars (£32.90) a barrel.
Quentin Willson, a campaigner for FairFuelUK, which commissioned the report, urged Chancellor George Osborne to encourage further cuts to fuel prices in this week's Spending Review.
He says the report "completely destroys the myth" that high fuel duty levels increase Government tax receipts.
Keeping duty low "actually increases revenues into the Exchequer by improved economic activity, more income tax, national insurance, corporation tax and VAT", he adds.
Mr Willson is calling on the Government to do everything in its power to lower fuel duty as well as making sure fuel retailers pass on oil price savings to businesses and consumers, arguing that the UK's future economic strength depends on such a policy.
Motoring News articles do not reflect the RAC's views unless clearly stated.
Copyright Press Association 2015