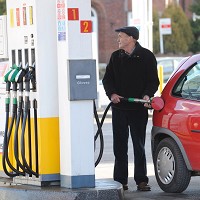 New research has revealed that as many as 300,000 vehicles suffer as result of a fuelling mix-up each year and just half of the owners are able to claim on their insurance .
The figures, which come from Halfords Autocentres, show that over the past year someone has put the wrong type of fuel in their car roughly every one minute and 45 seconds, and the cost to rectify it can range from £500 up to £3000.
The alarming regularity with which the mistake seems to be occurring is being put down to sales of diesel cars reaching record levels and more people switching.
Halford's Paul McClenaghan says it's easily done. "Putting petrol in diesel vehicles is unfortunately very easily done as the unleaded nozzle on the pump fits into the filler neck of the diesel vehicle without any problems," he said.
"It only takes a momentary distraction or lapse in concentration and the consequences are often costly."
The research has also indicated that owners of newer cars are the biggest offenders, with as many as 53% of incidents of mis-fuelling associated with cars less than 4-years-old.
Copyright Press Association 2012