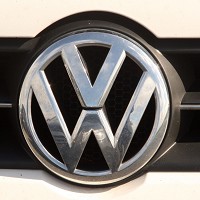 Fuel leak problems have led to more than 93,000 cars and SUVs being recalled worldwide.
The problems affect the Audi A6 and VW Touareg hybrid dating from 2012; the Audi A7 from 2012 and 2013, and the Audi Q7, S4 and S5, from 2011 to 2012.
These vehicles all have three-litre V-6 engines, the US National Highway Traffic Safety Administration confirmed.
A similar recall also affects Porsche's Cayenne and Panamera S hybrids, dating from 2011 to 2012.
VW, which owns all three brands, said that driving vibration and issues related to the car's production can lead to small leaks in some rare cases.
Both VW and Audi said they are not aware of any fires having taken place. A udi said that 80,000 vehicles are being recalled worldwide, two-thirds of these involving the US and China.
VW in Germany said only a few hundred cars were involved, as the recall included only one VW model.
Porsche said about 13,500 cars would be recalled worldwide, all involving engines supplied by VW and Audi. About 27,000 VW, Audi and Porsche cars are being called back in the US alone.
The issue was uncovered in March 2013 when customers began to complain that they could smell fuel. Seals and fuel injector rails will be replaced for free under the recall.
Copyright Press Association 2015