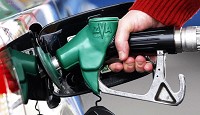 The Government has announced a 2p rise in fuel duty - hitting motorists with another petrol price increase.
The move, which is the third rise in nine months, has already seen supermarket chain Morrisons temporarily freeze the price of its fuel.
It has also been unpopular with motoring associations.
The Government had been pushed by motoring groups to delay introducing the September 1 rise.
However, the campaign failed and average petrol prices will now rise to around 107p a litre - from 85p a lite at the beginning of the year.
Now, it is feared prices at the pump could go up to 110p a litre as the cost of oil is expected rise over the coming weeks.
Adrian Tink, RAC motoring strategist, said: "This third fuel-duty hike is unacceptable. Since the start of 2009, Britain's motorists have seen a 23% rise in pump prices, meaning an extra £11 per tank for the average car.
"The Chancellor seems to regard Britain's 30 million motorists as a soft target for tax and with this latest rise he risks alienating them even further. The Government needs to appreciate the impact such taxes have on cash-strapped families."
Copyright © Press Association 2009