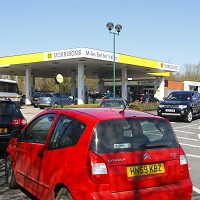 A new report has said that the rising cost of essentials, including vehicle fuel, mean families have around £113 less in expendable income per year.
The current financial climate is making spending on luxuries as limited as it has been in over 12 months.
Last month families' non-essential spending fell by 1.1% compared to the previous year, and was lower than it has been since February 2011.
The Lloyds TSB Spending Power Report says that essential spending has gone up by 6.2% in the last two months - the fastest since measurements started being taken in June 2010.
This rise is down in part to increased spending on petrol and diesel - which was up 12% in March thanks to panic buying surrounding the rumoured fuel tanker driver strike. Six in 10 drivers are reporting a higher spend on fuel this year as compared to the previous year.
Other increased costs include car insurance , which one insurer reports rose on average by £130 between January 2011 and January 2012, food and drink, gas and electricity bills and debt payments.
While costs continue to climb, incomes are not keeping pace with inflation and wage growth is now at 2.4%, its lowest point for more than 12 months.
Copyright © Press Association 2012