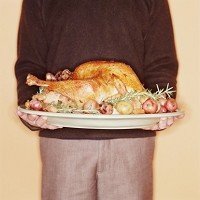 The rising cost of driving is starting to impact on family events like the traditional Sunday roast, according to a new study.
Many of the respondents to Hyundai's survey said they had missed out on family gatherings because of motoring costs, with 60% saying they have had to miss a Sunday roast.
A third (30%) of those surveyed said they can no longer afford to visit their parents, although a fifth of the male respondents did say they would be happy if they didn't have to visit their mother-in-law.
Just under a fifth of families also said that they have had to cancel a trip to visit their grandparents, while 10% of drivers even said that they would consider cutting out family visits at Christmas.
Over the last five years petrol costs have increased by a phenomenal 53% - from an average of 87.9p to 134.1p - and the study found that in a year the average family now spends £756 travelling just over 1,000 miles to visit relatives.
Drivers might benefit from using ajourney planner to find the shortest route to their families, particularly the two-fifths that said they can no longer afford to visit any relatives that live more than 150 miles away.
Tony Whitehorn, president and CEO of Hyundai UK, said: "The research gave us a great insight into the issues drivers face. We were especially surprised to learn that one in ten drivers would even cut out Christmas visits to relatives due to the cost.
"Fuel economy is really important to Hyundai and lots of work goes into the continual improvement of the efficiency of our products, which should help keep family ties strong."
Copyright Press Association 2012